Catherine MAIA

Written by leading experts, Nationality and Statelessness under International Law introduces the study and practice of 'international statelessness law' and explains the complex relationship between the international law on nationality and the phenomenon of statelessness. It also identifies the rights of stateless people, outlines the major legal obstacles preventing the eradication of statelessness and charts a course for this new and rapidly changing field of study. All royalties from the sale of this book support stateless projects.
TABLE OF CONTENTS
Introduction - Alice Edwards and Laura van Waas
1. The meaning of nationality in international law: substantive and procedural aspects - Alice Edwards
2. Statelessness and citizenship in ethical and political perspective - Matthew J. Gibney
3. The UN Statelessness Conventions - Laura van Waas
4. UNHCR's mandate and activities to address statelessness - Mark Manly
5. The determination of statelessness and the establishment of statelessness-specific protection regimes - Gábor Gyulai
6. Children, their right to nationality and child statelessness - Gerard-René de Groot
7. Women, nationality and statelessness: the problem of unequal rights - Radha Govil and Alice Edwards
8. Deprivation of nationality: limitations on rendering persons stateless under international law - Jorunn Brandvoll
9. State succession and issues of nationality and statelessness - Inete Ziemele
10. The nexus between statelessness and migration - Sophie Nonnenmacher and Ryszard Cholewinski
11. More or less secure? Nationality questions, deportation and dual nationality - Kim Rubenstein and Niamh Lenagh-Maguire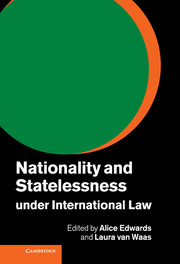 A

lice EDWARDS,
Laura van WAAS (eds.),

Nationality and Statelessness under International Law, Cambridge, Cambridge University Press, 2014
(322 pp.)
EDITORS:
Alice Edwards, Office of the United Nations High Commissioner for Refugees, Geneva
Alice Edwards is the Senior Legal Coordinator and Chief of the Protection Policy and Legal Advice Section at the UNHCR, Geneva. She is also Research Associate at the University of Oxford's Refugee Studies Centre and Fellow of the University of Nottingham's Human Rights Law Centre.
Laura van Waas, Universiteit van Tilburg, The Netherlands
Laura van Waas is the founder and manager of the Statelessness Programme at Tilburg Law School, The Netherlands.
CONTRIBUTORS:
Alice Edwards, Laura van Waas, Matthew Gibney, Mark Manly, Gábor Gyulai, René de Groot, Radha Govil, Jorunn Brandvoll, Inete Ziemele, Sophie Nonnenmacher, Ryszard Cholewinski, Kim Rubenstein, Niamh Lenagh-Maguire